*
The Department of Biological Sciences offers Bachelors, Masters and Doctoral Degree Programs.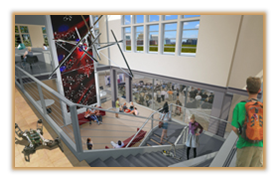 *
Undergraduate Majors and Minors:
Undergraduate majors and minors integrate biology, mathematics, computer science, physics and chemistry. This approach prepares students for the study of biology in the 21st century.
*
Graduate Degree Programs:  
Graduate degree programs provide advanced knowledge in biology and research. The masters program is designed for students looking for more in depth knowledge of biology, while the doctoral program is for students interested in advanced research.
*
Certified Teaching Program
For students interested in a teaching career, NJIT students have the option of applying to the Teacher Education Program. This program, jointly administered with the Rutgers-Newark Department of Urban Education, allows accepted students to take the necessary coursework to be able to obtain a teaching license in New Jersey. For information about this program, please click here.
*
*