Research by Graduate Students
Some of the research performed by students in our MS and PhD Programs.
Haley Amplo
Haley is currently a Ph.D. student in Dr. Flammang's Fluid Locomotion lab where she studies the locomotion and functional morphology of frogfishes.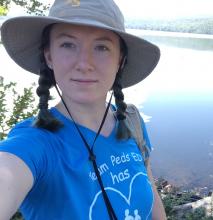 Jiyeon "Joan" Baek
Jiyeon "Joan" Baek is currently a Ph.D. student working with Dr. Tran. She is interested in the cellular and molecular mechanisms underlying normal aging and aging-associated diseases. She is currently examining the potential role of Semaphorins in the manifestation of neurodegenerative disorders.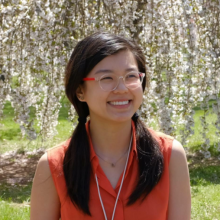 Justin Bernstein
Justin Bernstein is a PhD student in the Ruane lab at Rutgers University-Newark. His research focus on studying the evolutionary relationships of lizards and snakes, figuring out how Earth's geologic history has affected the biodiversity of reptiles we see today. Throughout his work, he has primarily used molecular techniques to study evolution, but also uses morphological, ecological, and other data types as well. Here at Rutgers/NJIT, Justin is studying the structure and diversity of scales in lizards and snakes using flow tank and imaging methods. He also is studying the evolution and habitat adaptation of a group of aquatic snakes using next-generation sequencing and phylogenetic methods.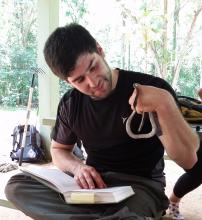 Callie Crawford
Callie Crawford is a PhD candidate in the Flammang lab at NJIT. Her research interests are functional morphology and biomechanics of fishes. Her master's research focused on documenting skeletal variation in chondrichthyans (sharks, skates, rays, and chimaeras) using μCT scanning. At NJIT she shifted to bony fishes and is studying how the skeletal and muscular morphology of hillstream loaches facilitate walking behaviors similar to those seen in terrestrial tetrapods.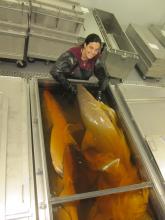 Timothy Gassler
Timothy Gassler is currently a Masters student working in Dr. Brooke Flammang's lab. His research is focused on the neuromuscular control of the walking/punting behavior of skates.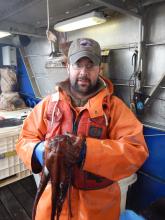 Abid Haque
Abid Haque is currently a Ph.D student working with Dr .Simon Garnier and Dr. Gregory Weber. He studies the mechanisms behind decision-making in the brainless organism Physarum polycephalum, using a combination of molecular and computational techniques. His primary focus is on the cytoskeletal dynamics which allow Physarum to make decisions, and he uses molecular probes along with computer-based simulations to understand its cognitive-like behavior.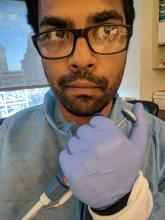 Rebecca Panko
Rebecca Panko is a PhD Candidate working with Dr. Dan Bunker. She studies how urbanization impacts the evolution of the plant species shepherd's purse (Capsella bursa-pastoris).