Career Paths For Biology Majors
Many people unwisely advise young people that biology is only for people applying to medical school, or who want to teach. While biology does offer an excellent background for medical school, there are many other career choices for a biology major.
Some careers that require either a biology degree or significant knowledge of biology and are excellent options for biology majors are:
Environmental Protection, Public Health Inspector or Analyst, Physical or Occupational Therapist, Biomedical Scientist, Occupational Health and Safety, Pharmacist, Regulatory Compliance, Nutritionist, Epidemiologist, Criminologist, Physician Assistant, Professor, Nurse, Research Scientist, Clinical Research, and many, many others.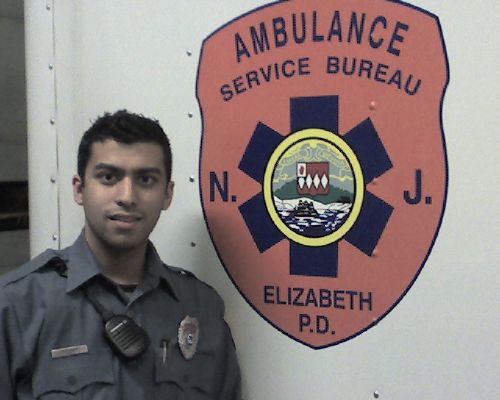 Nikhil Raswant '07 is an Emergency Medical Technician with the Elizabeth Police Department Ambulance Service Bureau. He will begin a BS to BSN nursing program this fall.
Well known people who majored in biology or have a significant biology background
Bob Dole, Former US Senator
Lisa Kudrow, Actress
Bill Murray, Actor and Comedian
Howard Dean, Former Governor of Vermont and Presidential Candidate
Jerry Greenfield, Co-founder of Ben & Jerry's
Barbara Kingsolver, Writer
James Earl Jones, Actor
Neil Diamond, Singer & Songwriter
Robin Cook, Writer
Bill Frist, US Senator
Margaret George, Writer
H.G. Wells, Writer
Denzel Washington, Actor
Carl Feldbaum, Watergate Prosecutor
Agnes Robertson Moorehead (1900-1974), Actress (Endora on Bewitched)
Rachel Carson (1907-1964), Environmental Activist and Writer
Mayim Bialik (PhD in neuroscience, actress)