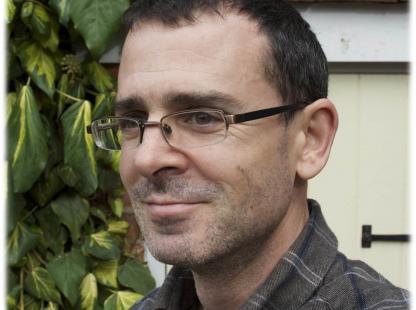 Chair's Welcome
Welcome to the website of the Federated Department of Biological Sciences at NJIT.
Welcome to the website of the Federated Department of Biological Sciences! Our Department is the newest, and one of the fastest growing, at NJIT. Using the links on this site you can find out about our research, our degree programs, and our amazing faculty and students.
Federation is a close relationship with our 'sister' Department at Rutgers-Newark, which lies just to the east across Dr. Martin Luther King Jr. Boulevard. Federation means that we function in many ways like a single, larger Department, providing a more diverse educational and research environment. We offer joint degrees at all levels from undergraduate to doctoral, and students can register for classes and conduct research at both institutions.
The NJIT Department occupies the third and fourth floors of the newly-renovated, historic Central King Building. Our state-of-the-art labs and classrooms house thirteen research faculty, four full-time instructors, and three permanent staff. Rutgers adds another fourteen research faculty and four full-time instructors.
Research at NJIT is well-integrated along a spectrum from pattern generation in small neural circuits, through the neural pathways linking sensory perception and motor response, the evolutionary origin and functional properties of biomechanical, physiological and and behavioral adaptions, to the consequences of these for ecological processes and sustainability. Our Rutgers colleagues add additional expertise in cell and molecular biology, cellular neurobiology, and phylogenetics and the evolution of biological diversity. We receive millions of dollars of research function from NIH, NSF and other sources, and there are opportunities for students at all levels to get involved in research.
The Department of Biological Sciences is especially proud of our students. The proportion of our undergraduate students in the nationally ranked Albert Dorman Honors College is (one of) the highest at NJIT. A majority of our students are interested in careers in the health industries, and working closely with NJIT's Director of Pre-Health Advising (an alumnus from our own Doctoral program) we have had great success at getting our students into medical school, dental school, and other pre-professional programs. (NJIT-wide, our success rate is usually greater than 85% and sometimes tops 90%.) Other students go into industry, public health, and a variety of exciting careers, often via an advanced degree.
To meet the challenge of our talented students, the Federated Department of Biological Sciences strives for excellence in instruction. Our full-time instructors are among the most innovative at NJIT. They are pioneering best practices in education, such as active learning, and are responsible for the modular, reconfigurable design of the renovated classrooms in CKB. Just this year we won two awards from the Institute for Teaching Excellence, NJIT's highest instructional honor. Senior Lecturer Dr. Maria Stanko received the award for Excellence in Teaching by an Instructor (lower division courses), and graduate student Maggie Wisniewska received the award for Excellence in Teaching by a Graduate Student. It should not come as a surprise that our student teaching evaluations are, overall, the highest at NJIT!
If you would like to know more, please browse the rest of our website, and don't hesitate to get in touch if you have any questions. Or better still, come and visit us at one of NJIT's Open House events. I look forward to meeting you.
Federated Department of Biological Sciences, NJIT