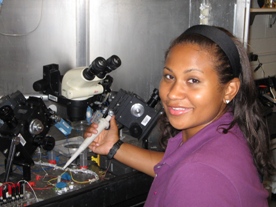 The Bachelor of Science (BS) Degree Program in Biological Sciences emphasizes a more quantitative approach to biology than the Bachelor of Arts (BA) degree program. The BS program will help students develop computer and mathematical skills needed for biological sciences in the 21st century. Students opting for BS must take advanced mathematics and computer science courses, including one upper division mathematical biology course. This curriculum is ideal for students who wish to work in industry, in government, or as a researcher or teacher.
Required Coursework
To obtain a Bachelor of Science (BS) Degree in Biological Sciences, students must satisfy the Major Requirements in Biology, the General University Requirements (GUR), and complete a minimum of 128 credits. The requirements for a BS in Biology consist of 38 credits in Biological Sciences plus cognate courses in Chemistry, Physics, Mathematics, and Computer Science.
The following requirements define the BS Degree in Biological Sciences. All required courses listed below, including cognate courses, must be completed with a grade of C or better.
 1)  REQUIRED CORE COURSES ~ 12 credits

    A.  R120/BIOL 200 Concepts in Biology * (4cr)

          

*

Effective from

Fall 2011

ONLY. Currently enrolled students should complete
            General Biology (R120:101&102).

4 credits +

    B.  BIOL 205 Foundations of Ecology & Evolution Lecture (3cr)

3 credits +

    C.  BIOL 206 Foundations of Ecology & Evolution Laboratory (1cr)

1 credit +

    D.  R120:201 Foundations of Cell & Molecular Biology Lecture (3cr)

3 credits +

    E.  R120:202 Foundations of Cell & Molecular Biology Laboratory (1cr)

1 credit = 12cr

 2)  CONCEPT CLUSTERS ~ 13 credits 
       Majors must complete one course from each of the following four concept cluster categories:

    A.  Ecological and Evolutionary Framework (3cr)

BIOL 222 Evolution

R120:282 Animal Behavior

R120:280 Ecology

R120:370 Plant Ecology

3 credits +

    B.  The Functional Organism (4cr)

R120:211 Plant Kingdom

R120:335 General Microbiology

R120:330 Plant Physiology

R120/BIOL 340 Mammalian Physiology

R120:342/343 Developmental Biology & Dev. Biol. Laboratory

R120:230 Biology of Seed Plants

4 credits +

    C.  Molecular and Cellular Mechanisms (3cr)

R120:352 Genetics

R120:355 Cell Biology

R120:356 Molecular Biology

R120:360 Biochemistry

3 credits +

    D.  Computational Biology (3cr)

MATH 371 Physiology and Medicine

MATH 372 Population Biology

MATH 373 Intro Mathematical Biology

MATH 430 Analytical & Computational Neuroscience

MATH 431 Systems Computational Neuroscience

3 credits =

13cr

 3)  BIOLOGY ELECTIVES ~ 6 credits. 
       Majors must complete two courses from the following list of (3cr) biology elective courses: 

BIOL 225 Insects in Society

R120:325 Animal Parasites

BIOL 338 Ecology of the Dining Hall

BIOL 341 Introduction to Neurophysiology

R120:342 Developmental Biology

BIOL 344 Physiological Mechanisms

R120:345 Comparative Physiology

R120/BIOL 346 Neurobiology

R120:350 Immunology

R120:365 Human Ecology

BIOL 368 Ecology and Evolution of Disease

BIOL 375 Conservation Biology

BIOL 383 Neural Basis of Behavior

R120:402 Biology of Cancer

R120:422 Biological Invasions

BIOL 440 Cell Biology of Disease

R120:445 Endocrinology

BIOL 447 Cellular and Systems Neuroscience

BIOL 448 Neuropathophysiology

R120:455 Molecular Cell Biology

R120:456 Virology

R120:472 Environmental Assessment

BIOL 491 Research and Independent Study

BIOL 492 Research and Independent Study

R120:493 Seminar in Biology

R120:494 Seminar in Biology

BIOL 495 Honors Seminar in Biology (BIOL 495)

<···2 courses

3 credits +

3 credits =

6cr

 4)  LABORATORY / FIELD EXPERIENCE ~ 7 credits.
       Majors must complete at least one 4-credit lab in this category:

    A.  Four Credit Laboratories (4cr)

R120:211 Plant Kingdom

R120:227 Biology of Invertebrates

R120:230 Biology of Seed Plants

R120:285 Comp. Vertebrate Anatomy

R120:311 Taxonomy of Vascular Plants

R120:313 Mycology

R120:325/326 Animal Parasites & Parasitology Laboratory

R120:330 Plant Physiology

R120:335 General Microbiology

R120/BIOL 340 Mammalian Physiology

R120:342/343 Developmental Biology & Laboratory

R120:405 Microanatomy of Tissues

R120:430 Plant Growth and Development

BIOL 451 Cell Physiology and Imaging

4 credits +

    B.  Three Credit Laboratories (3cr)

R120:328 Ecology of Birds

R120:371 Field Plant Ecology

R120:380 Field Ecology

R120:381 Field Animal Ecology

BIOL 475 Analytical Field Ecology

R120:485 Tropical Field Ecology (2cr)

3 credits =

7cr

 5)  COGNATE COURSES ~ 40-41 credits.
       Majors must complete all cognate courses in this category:

    A.  BNFO 136 Bioinformatics II (3cr)

3 credits +

    B.  CHEM 124 General Chemistry Lab (1cr)

    C.  CHEM 125 General Chemistry I (3cr)

    D.  CHEM 126 General Chemistry II (3cr)

    E.  CHEM 243 Organic Chemistry I (3cr)

    F.  CHEM 244 Organic Chemistry II (3cr) ·

    G.  CHEM 244A Organic Chemistry Lab (2cr)

15 credits +

    H.  PHYS 111 Physics I (3cr)

     I.  PHYS 111A Physics Lab I (1cr)

    J.  PHYS 121 Physics II (3cr)

    K.  PHYS 121A Physics Lab II (1cr)

8 credits +

    L.   MATH 112 Calculus II (4cr)

    M. MATH 211 Calculus III (3cr)

7 credits +

    N.  MATH Cognate (3-4cr). 
    O.  Majors must complete one of the following math cognate courses:

MATH 222 Differential Equations (4cr)

MATH 227 Mathematical Modeling (4cr)

MATH 337 Linear Algebra (3cr)

MATH 340 Applied Numerical Methods (3cr)

3 or 4 credits

= 36-37cr

 6)  GENERAL UNIVERSITY REQUIREMENT (GUR) COURSES ~ 50 credits.

FRSH SEM Freshman Seminar (0cr)

BNFO 135  Bioinformatics I  (3cr)

HUM 101 English I (3cr)

HUM 102 English II (3cr)

MATH 111 Calculus I (4cr)

MATH 333 Probability and Statistics (3cr)

MGMT 390 Principles of Management (3cr)

19 credits +

GUR Elective - 2 Physical Education Elective Courses (1cr each = 2cr)

GUR Elective - 3 Free Elective Courses (3cr each = 9cr)

GUR Elective - 2 Technical Elective Courses (3cr each = 6cr)

GUR Elective - 2 HSS Upper Level Elective Courses (3cr each = 6cr)

GUR Elective - 2 Social Sciences Elective Courses (3cr each = 6cr)

GUR Elective - 1 English and Cultural History Elective Course (3cr)

GUR Elective - HSS Senior Seminar (3cr)

35 credits =

54cr

 

 Category 1-4:  Biology Courses:

38 credits

 Category 5:  Cognate Courses:

36-37 credits

 Category 6:  GUR Courses:

54 credits

BS DEGREE IN BIOLOGICAL SCIENCES

128 CREDITS
*
      
BS in Biology Degree Program Information:


·
  Δ  BS in Biology brochure (PDF)
·
  Δ  BS in Biology curriculum (PDF)
·
 ·
How Can I Learn More?


·
  Δ  Attend an undergraduate open house.
·
  Δ  Request information from our Admissions Office.
·
  Δ  Contact us at biology@njit.edu.
·
 ·
 ·
 ·
 ·
 ·